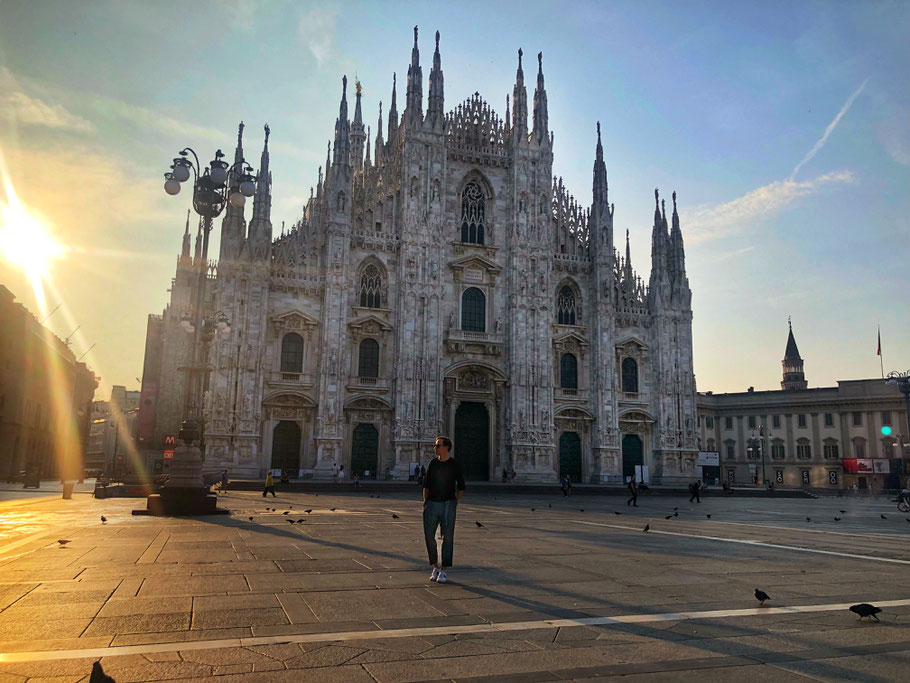 I don't know about you, but when I think of Milan, I think of Bella Italia, a cosmopolitan city where fashion is being designed and trends are being created, a city with history and where food is of great importance. The city's landmark is the Milan Cathedral. I could reach the Milan by air in less than an hour (linear distance). By train it looks a little different, because it has to meander through countless mountain ranges. Thus it takes approximately 4 hours from Zermatt until I arrive at the main station.
Getting there
When I arrived, I had to realize that a good travel preparation makes sense even on a short trip. Maybe I was just a little lazy. Because the easiest way to get to the city centre is with the Milan Underground. Especially as my hotel was right next to an underground station directly opposite the cathedral. But I decided for a Uber.  The friendly driver turned out to be a real "mafiosi" during the trip and drove me to a hotel that had a similar name, but was located miles away from my actual hotel. Since from this location could really only be driven on with Uber, he just filled his wallet twice. But as I said, it's my own fault and it suits me so well, because such things always happen to me on my travels. ;) ... and hello, it also fits to Italy or not?
The Town House Duomo Hotel
As the name suggests, "The Down House Duomo" is beautifully situated opposite the cathedral of Milan. Why this hotel - the view is breathtaking and there is almost no better spot to take pictures of the cathedral. It is also the perfect starting point for many activities. Sights and some of the most popular shops are just around the corner. The hotel is quite small. Very special is the reception, which is located on the 5th floor. The hotel entrance is also relatively hidden - for a 5 star house a little unusual as I think. The hotel staff is very friendly and very helpful. The rooms on the 3rd floor are all differently equipped. My room was rather minimalistic, which I didn't really like. But this is certainly different for each individual. The balcony with a view to the cathedral was breathtaking. The bathroom had a large rain shower and body care products from Etro, which I love.  As a single traveller I really felt very comfortable. The other guests were a good mix of business people, couples and other unaccompanied travellers. Based in the hotel is a Michelin star restaurant, which is not directly operated by the hotel. But I did not eat here. The walk over the "Highline Galleria" on the roof is really cool, here the city is beautifully visible - simply breathtaking and accessible only for hotel guests.  Finally I can highly recommend "The Town House Duomo", even if it is not really cheap. 
My favor restaurants
On all the trips I've been on alone, I've noticed that you're not treated the same in every restaurant. 
It's clear, of course, that a single guest will consume less than two or more guests. Thus, it can happen that the dishes are served in a rush in order to make the table available to further guests as soon as possible. So, the feel-good factor is not the same everywhere and a beautifully believed experience can be destroyed fast. By the way, what i always have on site with my restaurant visits is the mobile phone with full battery. On the one hand I am fascinated to picture the culinary delights and on the other hand it also serves as a distraction for annoying glances.
In this context I would like to highlight two cool experiences in Milan. 
Restaurant Da Regina 1985
What could be nicer than being in Italy and enjoying a pizza or a fine pasta dish? The "Da Regina Restaurant" is located in a side street not far from the Town House Duomo and offers both. When I arrived, I was allowed to choose the table myself. The restaurant team was very friendly and offered a Prosecco as a welcome drink. Since it was supposed to be a simple lunch, I decided on a pizza. In this context I can really recommend the Signatures pizzas of the house, which are refined with special fine Italian products. All in all it was a really pleasant stay.
IYO Taste Experience
I have to say that I love to eat well, and that's why it can sometimes be a Michelin-starred restaurant. In this kind of restaurant it is even stranger to eat alone. Because mostly you want to share this special way of eating with other people and discuss about the food and its tastes. But I also find it exciting to eat there alone, not to be distracted and to let myself be completely influenced by the different tastes. That's why I decided to book an evening at the IYO Restaurant, awarded with a Michelin star. This restaurant was recommended to me by a friend. The location is super cool. The large room is divided and designed super stylishly. The IYO combines an international cooking style inspired by the East with a large wine and saki menu. The ambience is simply breathtaking.  When I made my reservation, I asked for a table at the side. This is certainly an important tip from me. Because you simply feel more comfortable at the side than in the middle. Arriving in the evening, I was really warmly welcomed and was allowed to choose between two different tables. The staff was very professional and discreet during the whole evening and paid attention to every detail, as it should be the case in such restaurants. I decided to order the tasting menu. As for the wine, I trusted the sommelier. My conclusion - a successful evening all around and worth a visit as a single traveller. The prices are very fair.
Places to visit - sightseeing
A must visit are of course the cathedral and the Galleria Vittorio Emanuele. Very worth seeing also is the Castello Sforzesco di Milano. You can reach it on foot or with one of the old trams, which I highly recommend. In summer you should definitely visit the Naviglio Grande / Porto Ticinese quarter with all the cool, trendy bars and restaurants.  Wherever there is water, the mosquitoes are not far away. So pack up mosquito spray and use it. ;)  During the day there are so many talented street musicians in the centre. It's really worth listening for a moment. Annoying is the large number of people who want to sell very intrusive thin bracelets around the cathedral. Before you can say anything, you already have one tied around your armrist. Ignore them or tell them that you have no money. Fashion lovers should visit Via Solferino, Via Brera, Via Corso Como, Via Corso di Porta Ticineses and Via Torino. From luxury labels to cool young Italian designers, you'll find everything there. Also worth seeing is the newly opened Apple Store (Apple Piazza Liberty) in the city centre. 
Of course there is so much more historical to see, but as you'll see in my next posts in the coming weeks, I'm not the biggest sight seeing person but rather the person who enjoys a fine meal and a good glass of wine or looks around for hip fashion and the latest lifestyle trends.
Nightlife
I'm sure there's a fantastic nightlife in Milan, but to be honest, I needed some sleep. So I can't tell you anything about.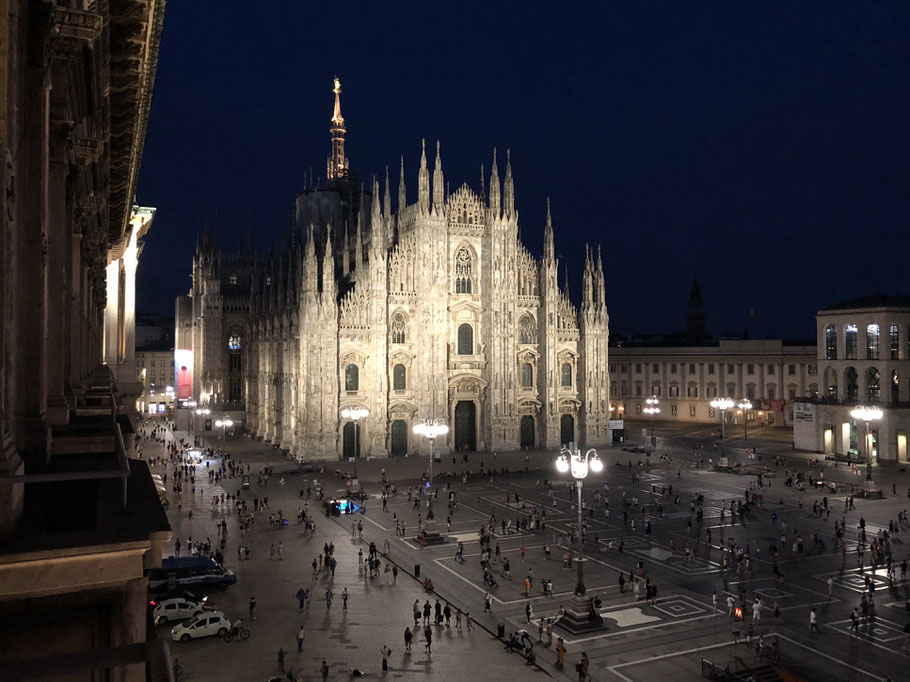 My conclusion to Milan
Milan is a super interesting and exciting city. As a single traveller I felt comfortable at any time - except in the Uber ;)). Milan is ideal for all fashion lovers, gourmets and friends of culture and history. The Milanese are extremely friendly. As with all big cities and perhaps a little more in Italy, you should be careful of pickpockets - specially if you travel alone. The public transport network is excellent, so you can save the taxi money for shopping. 
Things you like, you should share - if that's so. Don't hesitate to do it.